By: Annelise Vintila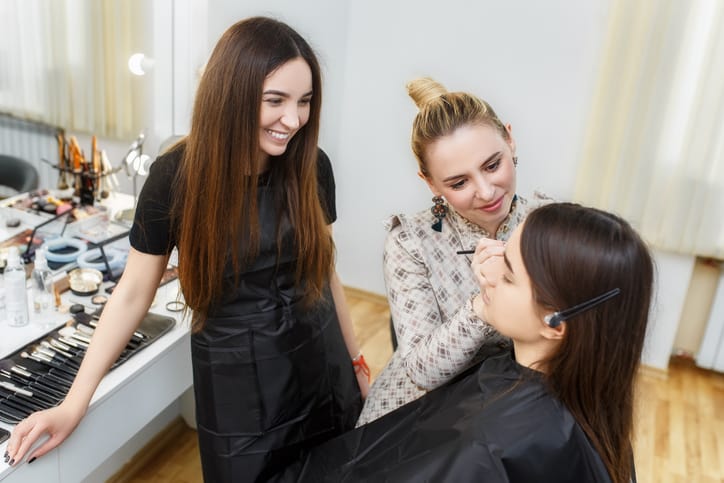 I remember watching Grease as a child and singing along to Sandy and Danny, but my favourite character was actually Sandy's best friend Frenchy. She was gullible, open-minded, optimistic and clumsy, and I related to her immensely. Frenchy struggled through beauty school and her dream of becoming a beautician seemed unreachable and, along with Frankie Avalon, sings '
Beauty School
Dropout' before waking up. The definition of beauty is constantly evolving through the decades with hundreds of influences shaping it; the most prominent influence in the 21
st
century being social media. Youtube channels sprouting like mushrooms after the rain, online beauty blogs have escalated rapidly due to social media apps such as Instagram, Snapchat and Facebook. The best beauty blogs are not necessarily the most informative, they are the ones that get the most clicks and likes.

Youtube Doesn't Justify Make up Artist Courses
Social media has helped many talented make-up artists get discovered, but it has also attracted unnecessary attention to unqualified bloggers. Anyone can film themselves doing their make-up in front of a mirror, but a true artist has
make up artist training
.  Just like Frenchy, a makeup artist boasts passion and interest in makeup and is willing to modify their palette with ongoing trends. If you're looking to learn past what Google can teach you, there are some reputable schools that can educate and elevate your makeup skills like
https://www.intlbeautyinstitute.com/
. Once enrolled, students will take
make up artist courses
where they will be introduced to the history of cosmetics, techniques, lighting and eventually building their own portfolio.
Online resources can miss out on the depth offered at beauty school

It Starts With Outward Appearance
A makeup artist can have a big impact on a person's self-esteem, accentuating their best features and adapting their palette to each individual.  A makeup artist is professionally trained because they have to deal with more than just makeup; when a client sits in their chair they must also act as a friend. A makeup artist must connect with their client because, for an hour or so, they will share intimate details about their confidence. The role of makeup started as a mean to improve the way you look outwardly, and the better you feel about how you look, the better you will feel about yourself as a whole.
Makeup artists help their clients feel confident

Individual Case, Same Goal
Each person is different when they apply their makeup; some apply to hide blemishes, some apply to draw attention to their full lips, some apply to cover spots of aging. What everyone that applies makeup has in common is that they want to improve their outward appearance to help them cope with who they are on the inside. A makeup artist's job is to guide each client to create their best version of themselves, where they will listen and give advice. They are professionally trained to deal with a range spectrum of clients and are able to modify their techniques with everyone that sits in their chair (even if you're a beauty school dropout), something Youtube can never do.
Are you considering beauty school?
Discover why so many students choose to study at the International Beauty Institute!