We have all been there… The struggle of meeting your weight loss goals, even after trying countless diets and workout plans. That's why CoolSculpting is gaining momentum as the most popular treatment. It is a non-surgical procedure that can help you meet your goals and end your complaints. Want to learn more? Read on to find out what exactly CoolSculpting is. Are you a medical aesthetician looking to learn CoolSculpting? We also included information about obtaining an Introduction to CoolSculpting Certificate.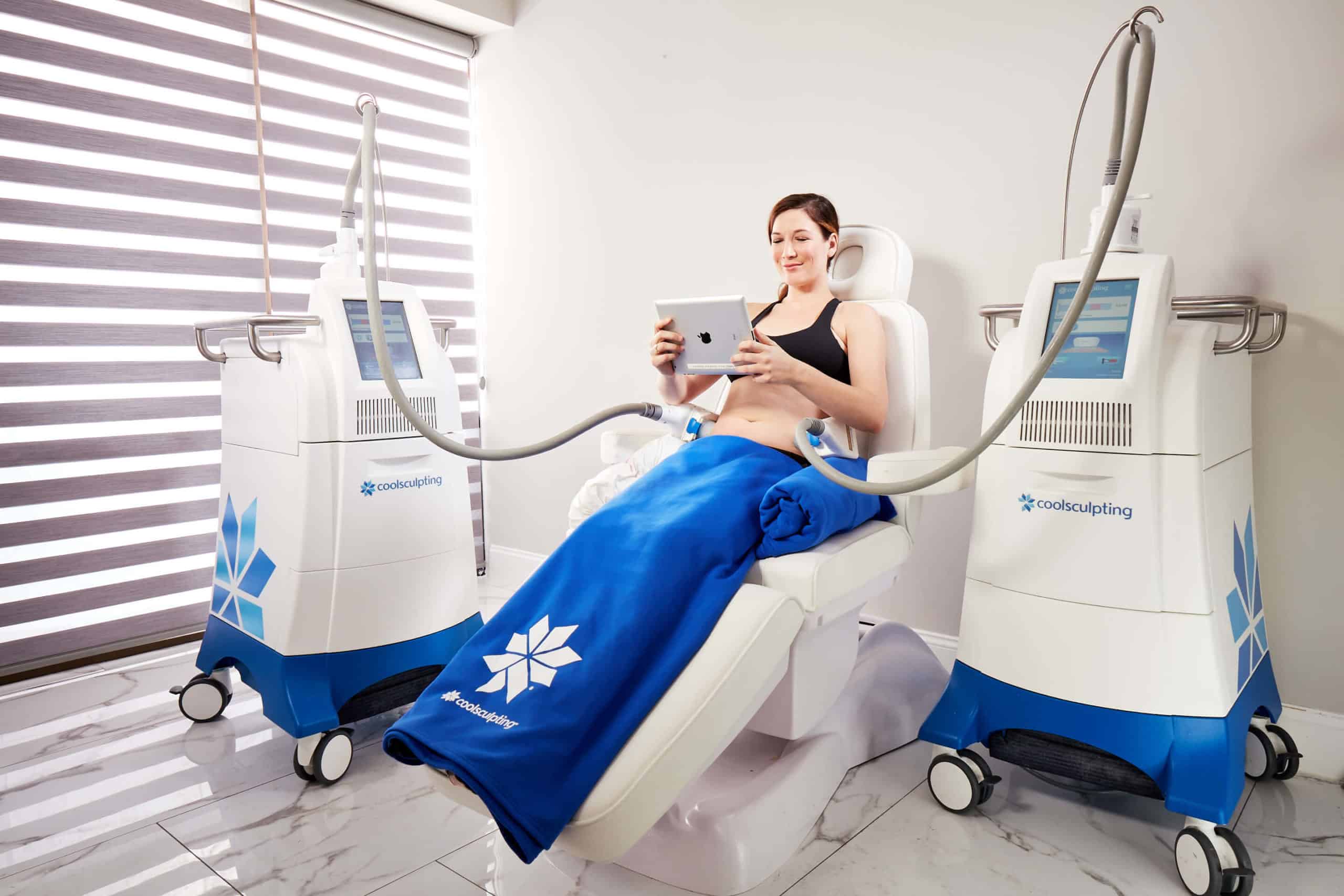 WHAT IS COOLSCULPTING?
The CoolSculpting procedure is a non-invasive, nonsurgical, and effective solution to stubborn fat. It utilizes precise low temperatures and cooling to target the fat cells underneath the skin. These fat cells are then frozen off, and disposed over time naturally through your body. CoolSculpting in Toronto provides procedures that are  tailored to the person at hand and their needs. An applicator attached to the CoolSculpting device is attached to the area of the unwanted fat. This applicator is chosen based on the size, shape, and pinchability of the fat of the target area. If you can pinch it, you can sculpt it. This is able to make the process customizable to that of the client.
DOES IT REALLY WORK?
CoolSculpting is known for giving real results and targets those stubborn fat areas you have been struggling to remove. Over 7 million treatment cycles have been performed around the world, providing high patient satisfaction. This fat-freezing procedure uses cryolipolysis technology that targets and freezes fat cells, resulting in up to 20-25% fat reduction in the treated areas. These fat cells are naturally processed and eliminated, so they won't migrate to another area of your body.
DECIDING BETWEEN LIPOSUCTION AND COOLSCULPTING?
CoolSculpting Toronto is a non-invasive fat-freezing procedure. Whereas, liposuction is an invasive surgical procedure that involves cutting, stitching, and anesthesia. Both procedures are used to permanently remove and target fat cells, but through completely different means. Let's compare the two;
Safety: CoolSculpting may bring upon minor side effects like bruising and/or skin sensitivity. Liposuction can bring forth serious complications like blood clots and negative reactions to the anesthesia.
Time: CoolSculpting sessions usually take about 1 hour, with multiple sessions needed to maximize results. Liposuction takes one session of about 1-2 hours, with several days to 4 weeks needed for recovery due to the invasive nature.
Cost: CoolSculpting can range from $1000-$4000 depending on the size of the area. The average cost for Liposuction is around $3500.
Efficiency:  CoolSculpting can result in 20-25% fat reduction in the treated areas. Liposuction can eliminate up to 11 pounds before it is deemed unsafe.
WHY YOU SHOULD LEARN?
Set yourself apart from others in the industry with an Introduction to CoolSculpting Certificate. Only high-end spas perform CoolSculpting, and they actively seek aestheticians who are trained on their machines and devices. Consider this – it is much more cost effective for the owner or manager to hire someone where minimal training is required. If a medi-spa or clinic has CoolSculpting listed as a service, you can bank on them shortlisting resumes of aestheticians when they see the word, CoolSculpting. With this certification, you will be more relevant in the industry with knowledge of today's most popular cryolipolysis technology. 

Above: Graph depicting CoolSculpting Google searches in Canada over time

Most popular search months: February-March each year
NOTE: severe dip at the right of the graph depicts COVID closures March-May 2020. Searches for CoolSculpting are once again, trending up.

To add, CoolSculpting Certificate courses are very rare. Because of its high-end nature, very few aesthetics training facilities have a CoolSculpting machine in North America. In fact, International Beauty Institute is currently the only medical aesthetics institute in Canada who offers a CoolSculpting Certificate of any kind. 
Everything considered, CoolSculpting is booming right now, which makes it a great asset on your resume. Even if you were to apply to a place that doesn't offer the procedure, you can still impress them with your skillset on the advanced technology. This will show your range as aesthetician and speak to your knowledge in and commitment to the industry.