I think we can look around the world and see there's a lot of tension going on.
Our industry, spa essential service and not just ours alone, but a plethora of industries are having to reinvent themselves. Being able to take what's reality right now and say, okay, this is what it is, but moving forward, there's still a purpose for my role. Salons opening in Covid have to be flexible and think about how you can prepare to maintain the health and wellness of your clients so that they have complete confidence in you.
VIRTUAL CONSULTATION IS KEY
That's our number one step out of the gate. So before we set up the actual place, part of our setup is realigning. How we do things, how we offer spa essential services, how we connect with our clients. First and foremost, your walk-in clients. According to guidelines, with salons opening covid, they're encouraging that you discourage walk-in clients. Now that might not apply to all of us. If you have your home based business. But if you are a storefront or if you are a regular spa, we want to encourage walk-in clientele to connect with you first online. There needs to be a first point of contact on digital platforms with virtual consultations. So when they call, when they email, when they even Instagram you or direct message you on any platform, that you take the time to welcome them, let them know you're so happy to connect with them. Your first step is an online, face to face consultation to find out their needs. And if the client is ill, it needs to be communicated on your website, on your platforms of social media and verbally that they need to stay home, and that they should not feel bad about cancelling. You encourage them that it's their responsibility to stay home and see their doctor or their health practitioner. Communicating that online on social media is so key. Once you are ready with your online consultations, then you are now ready for your setup. 
OUR TOP SOFTWARE PICKS FOR ONLINE CONSULTATIONS:
Zoom (free and paid options)
Google Meet (free)
OUR TOP SOFTWARE PICK FOR ONLINE SCHEDULING:
To schedule your virtual consultations
Increase the number of clients you get, and spend less time trying to schedule them. Simply sent your new clients a link so they can book their consultations themselves! It takes less than 2 minutes to set up an account, you can try it for free, and it will save you hours per day in scheduling. This one has a small monthly fee, but trust us – it's well worth it. 
Acuity Scheduling – Acuity Scheduling is your online assistant,
working 24/7 to fill your schedule.
SETTING UP FOR A SERVICE
Once you have had your online consultation, you find out what their needs are, and what spa essential service they're looking to achieve. Now you can take it from there. Your set up and pre set up, need to go above in regards to communication. You have given a concerted effort to disinfect according to safety guidelines. That means disinfecting all surfaces, disinfecting your beds, all your surfaces, your cupboards and handles. I mean, we know that we've been hearing this, but salons opening in covid should communicate how they are disinfecting to their clients through email, social media, and your website. Right off the gate, make sure that your room is sanitary. It's not all about Zen mood or looks anymore, keeping clean is most important. People are looking for safety before they decide to come to you. So consider making a video. Every smartphone can facilitate great tech videos now. So do that and let them know the virtual consultation, virtual tours are available. And then when they come in, they will be a little more at ease.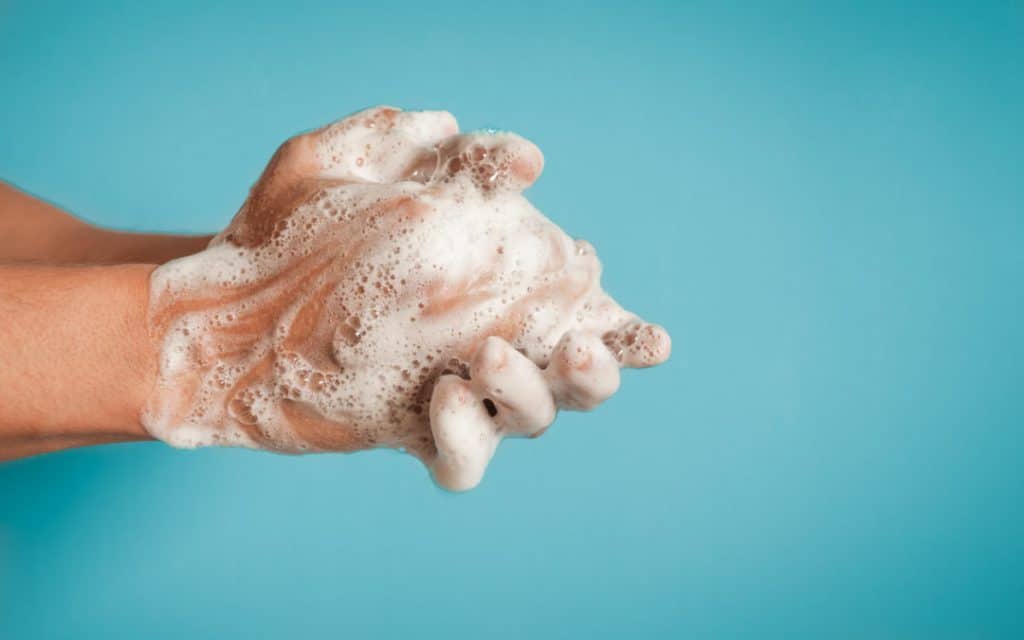 RULES PRE-COVID VS. POST-COVID
Typically, what is normally done pre-covid for non-invasive treatments that are low-risk of spreading pathogens, is we wouldn't wipe our beds down, necessarily, when we change the sheets. Typically, we would wipe down the bed at the beginning of the shift, and the end of the day. Now, post-covid, we recommend that you're wiping the bed after every single treatment, regardless of if it's invasive, or non-invasive. And this is something that's really important. If you are self employed, you need to make sure you communicate that you are doing this. Communicate that at your consultation, your confirmation, and all of your little touch points with your clients. However, if you are an employer or you work for an employer at a spa, you need to go one step further. As an employer of other aestheticians, you need to readjust the scheduling. We used to build in scheduling retail time at the end of your treatment. Now it needs to be booked into the books into your data system, whatever platform you're using, an extra 15 minutes to disinfect. I'm talking walls, light fixtures, door handles. It's something that guidelines are strongly recommending: that there's booked time for disinfecting… and we recommend that you advertise that.
DISINFECTANTS THAT WON'T DAMAGE YOUR EQUIPMENT
For salons opening in covid, It is recommended that you use something that is an antiseptic approved disinfectant that is at least 70% alcohol base for steel and flat surfaces. However, if you're working on the bed, see this information when selecting your cleaning products:
From www.canada.ca:
Cleaning products remove germs, dirt, and impurities from surfaces by using soap (or detergent) and water. Cleaning does not necessarily kill germs, but by removing them, it lowers their numbers and the risk of spreading infection.
Cleaning products remove germs, dirt, and impurities from surfaces by using soap (or detergent) and water. Cleaning does not necessarily kill germs, but by removing them, it lowers their numbers and the risk of spreading infection.
With a paper towel and disinfectant, or wipe, wipe down your bed. Now, if you have white beds and carts, and equipment, some disinfectants cause them to turn yellow. We have seen Lysol turn them yellow, and be wary of chlorine bleach-based products on white surfaces, too. Chlorine bleach-based products will also turn some white beds yellow and white surfaces yellow. Here's the trick: opt for hydrogen peroxide-based cleaning products. Will hydrogen peroxide turn white surfaces yellow? No. You're safe! If you have black vinyl surfaces, then not to worry… you can use almost any non-corrosive canada-approved disinfectant, and know that your equipment is safe. Always make sure you read and follow the label. so that you protect your clients, your spa equipment, and can continue with your spa essential service.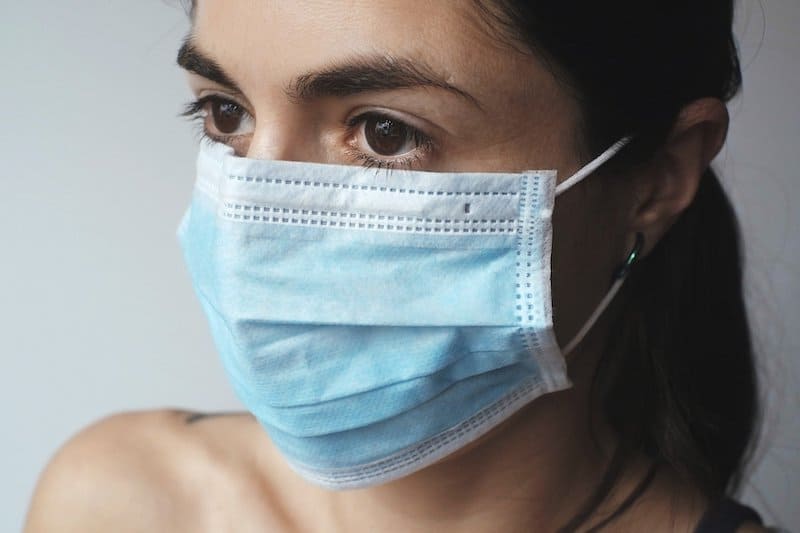 PRECAUTIONS TO TAKE DURING A SERVICE
According to guidelines, we are recommending that gloves are worn at all times during spa essential services. Again, remember do not touch your face. In addition to gloves, a mask is currently required. We've seen a plethora of different types of masks. Something that's going to prevent your breath from actually coming out onto your client. There are many companies now for skin professionals that are making face shields for salons opening in covid. Face shields  allow you to see a full periphery. It's a little bit more comfortable because I know for me, it's hard to breathe underneath those masks behind my ears and I'm playing with it. So the face shields are great investments to keep you from touching your face. Then it's advised that when you finish that treatment, you disinfect the inside and the outside of that face shield completely in between every treatment. 
Non-surgical cloth masks are also recommended to wear. If you are interested in creating your own cloth mask, the Canadian government website has released information about how to make your own cloth mask. 
In addition, we are strongly advising according to the guidelines, that all porous tools and implements like sponges and gauze be disposed of right away in an enclosed container. I know for my spa essential service, I used to throw the gauze in an open container. Some guidelines across the country now advise to use some type of closed garbage can. If it is non-porous, for instance, you want to make sure that once the tool is used on the client, it goes into a closed container for disinfection. You don't just lay it on your trolley. You don't just lay it on the counter, exposed to the open air. You place it directly into an enclosed container after use, ready for disinfecting. And use a new tool for the next client. So this means that it is advisable that salons opening in covid actually stock up on the quantity of tools so that there is another set ready for the next client.
COVID LAUNDRY GUIDELINES INCLUDE:
Using regular laundry detergent; washing cycles will kill the virus. 

Warmer water temperatures are preferred. 

High temperatures in a dryer will usually kill any remaining viruses that may be present. 
IT'S ALL ABOUT THE SAFETY OF YOU AND YOUR CLIENTS
As most of us experience our first (and hopefully only) pandemic of our lifetime, we have all learned a lot. The aesthetics industry has always placed a large emphasis on sterilization and the importance of the service being a comfortable experience for the client. We are now increasing the level of sterilization while adding these components to our clients routine. It's not just about the safety of the client, but the safety of everyone involved. As spa essential services are slowly opening in Canada, we see the safety measures for spas everyone is taking to ensure that clients feel comfortable receiving their service, while also ensuring the service provider feels that same comfort. Remember to sanitize every surface, ensure your products have the right amount of alcohol, wash your hands, don't touch your face, wear a mask and/or face shield based on your city's bylaws, and make your clients feel comfortable in this newer environment.